1.
The LED Art Board.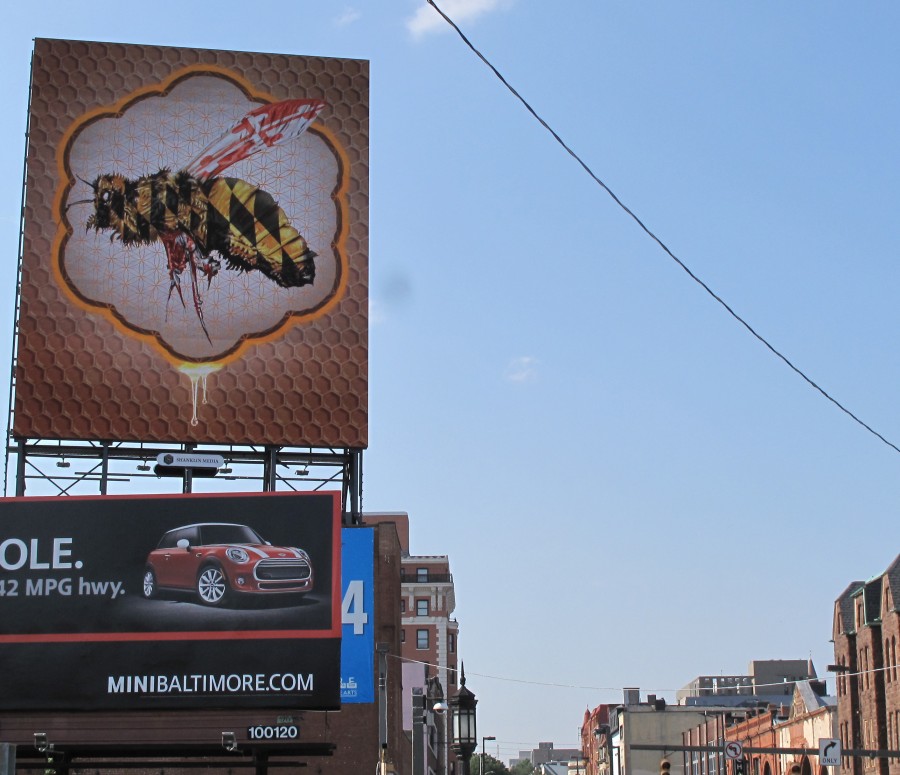 Not that it needed it, but this project is putting our lil city on the map of best cities for art. It's a near-decade-long vision of artist
Will Shanklin
and features the art of Baltimore artists alongside the ads that make the whole project possible. It's a vision of beauty in the night sky overlooking 83 and the Station North Arts District. After you're done blowing your mind on it, you can see a show at Metro Gallery, get swank food at Chesapeake, Plaza Theatro, see a movie at the Charles Theatre or a play at Yellow Sign Theatre or the Chicken Box, or get coffee at Kanteen, a crepe at Sophie's Crepes, a burger and sundae at Lost City Diner, delicious Jamaican food at Caribbean Paradise or a drink at Club Charles, the Depot, (Gatsby's?), or drugs at the after-hours underworld 1722. There are links on the website to the artists' individual pages where you can view and buy their art. Check it out.
By Will Shanklin featuring yours truly as the space babe!
2.
Fields Festival!
It's this weekend and I already have my bodypaint. I've only lived in the city a few years, but I don't remember anything like this happening. A ton of acts, the weird and the internationally-known, from our humble city will be performing in a campground that apparently also has lots of witch conferences. I long burned out of the big-name wannabe Woodstocks of my late teen years, but this festival feels like the real deal, ie. not a money-making scheme by big corporations or record companies, but a genuine effort to bring all of Baltimore's weirdos out in a big field together to play.
3. My Talented Friends.
For example,
Carabella Sands
who's always killing it, but is also heading up an offshoot project from the LED Art Board wherein artists are paired up with others to draw each others'
portraits
! It's happening tonight so I should have some good pictures by then to help fill this out.
Juliet by Carabella
Timmy by Carabella
Carabella by Bounge
Additionally, a new track from
Bounge
is up today! This is the musical project of Rebecca Drumm who is one of those Baltimore artists that works works works and you won't see her for weeks and then BOOM, she's got art coming out everywhere. This is the new track which you can download free:
but then she is an amazing painter as well:
In short, I made the best decision of my life when I decided to move here.